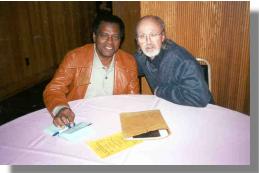 It's Sunday night and your radio dial is set to 95.9 WATD your ears are hearing:
"Radio the way it was and the way that it should be."
Music Heaven is on with your host of over 18 years Bill Clark. Bill is at the mike and his Angel is on the phones. Taking one of the 35 plus average call's received on Sunday Nights. Taking a trip down memory lane playing the sounds of Rhythm & Blues, Rock & Roll and Doo-Wop of the 50′s and early 60′s.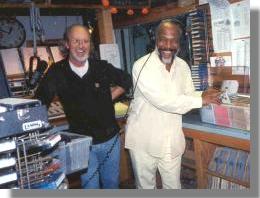 Bill lets his listener's request the songs and artists that had many hits but other stations choose to ignore or play. Along with song titles and names of the artists, Bill inserts his own musical knowledge and personal memories with personality and humor.
This is a radio show that the hosts, guests DJ's and helpers have as much fun as the people that listen are. Taking you back to when radio DJ's had their own personalities. Some people call these oldies Bill Calls' it timeless music. " This music still excites me today. Just like it did the first time I heard these songs. Sometimes while I am doing the show I can close my eyes and I'm 16 again"
The show is about the time and the music Bill takes you back to an old Boy/Girl Friend, school, popular hangout, your first car or a Saturday night dance. The mention of personal memories such as old TV Shows, Boston DJ's of the 50′s, lost school mates, or friends, favorite record shops of the day, often prompts listeners to call the radio station to share memories of their own